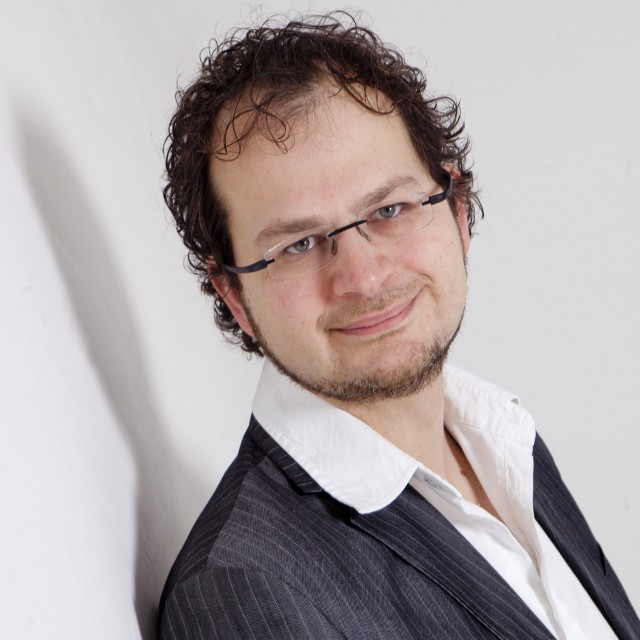 Pianist Erwin Deleux (born 1973) studied at the Royal Conservatoire of Antwerp and at the Lemmens Institute in Leuven (Belgium). As a student of Alan Weiss, he obtained a Master's degree in Piano and Chamber Music. Deleux has won prizes at various international competitions, including Cantabile, the European Piano Teachers Association Competition, the International Price Durlet and the Stefaan De Jonghe competition.
At Conservatorium Maastricht, Erwin Deleux works as a rehearsal pianist and chair of the Academic Council. He has an extremely varied professional life, with performances at major venues including the Singel in Antwerp and the Concertgebouw in Amsterdam. These are regularly broadcast by the leading radio and TV stations in Germany, Belgium and the Netherlands. Erwin performed as a soloist at the Chopin Festival and the Festival of Flanders. His interpretations of Tchaikovsky, Rachmaninov and Ravel concertos have been widely praised. He performs with orchestras including Symfonieorkest Vlaanderen and the European Philharmonia.
Deleux's greatest passion, however, is chamber music. He regularly accompanies born musicians like Philippe Benoit, Marc Tooten, Hans Van Kerckhoven and An Lauwereins. The CD recordings he made with the Emanon ensemble did not go unnoticed by the specialist press. He created the piano concerto by Frank Nuyts and recorded it with the Vlaams Sinfonietta (conducted by Raf De Keninck). He regularly performs at festivals in Latvia, Italy and Germany.
Additionally, Erwin started composing music in his own post classical language. His piano cycle "Silent Songs" was presented at TEDx Hasselt and at the MasP Festival in Como, Italy. In 2020, he was rewarded the first price in the Fidelio Composition Contest and presented a full cd with his piano music. His works are finding increasing attention in Germany, Spain and the USA and reached more then 1 Million streams on Spotify.